A symposium on Pearl S. Buck and her time in China was recently held as part of a series of events celebrating the 110th anniversary of
Nanjing University
. According to
a short article on the symposium
in
China Daily
, approximately 20 scholars and researchers from around the world attended the symposium, and the prevailing view was that,
Pearl S. Buck was a remarkable cultural envoy who played a pioneering role in demystifying China in the American mind in the early 20th century...
The article appears as a sidebar to a longer article, "
Quality key to real learning
," which described a "Meeting With Nobel Prize Laureates," another event the university organized on May 19th to celebrate it's anniversary. Four Nobel Laureates,
Daniel Shechtman
,
Aaron Ciechanover
,
Robert Huber
and
Jean-Marie Gustave Le Clezio
were invited to meet with middle school and university students. Of course,
Pearl Buck won the Nobel Prize for Literature
in 1938.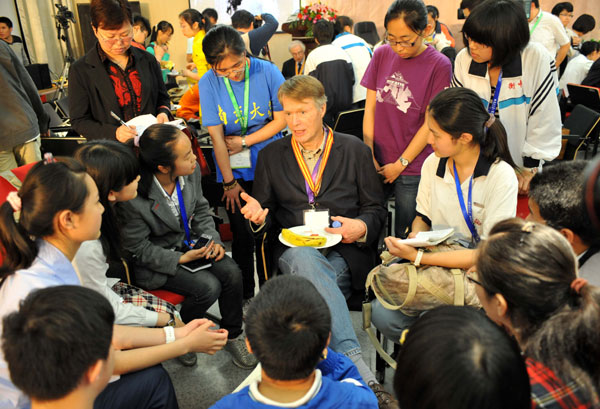 Jean-Marie Gustave Le Clezio, winner of the 2008 Nobel Prize in literature, speaks to students at Nanjing University, Jiangsu province, on Saturday. Xu Qi / for China Daily